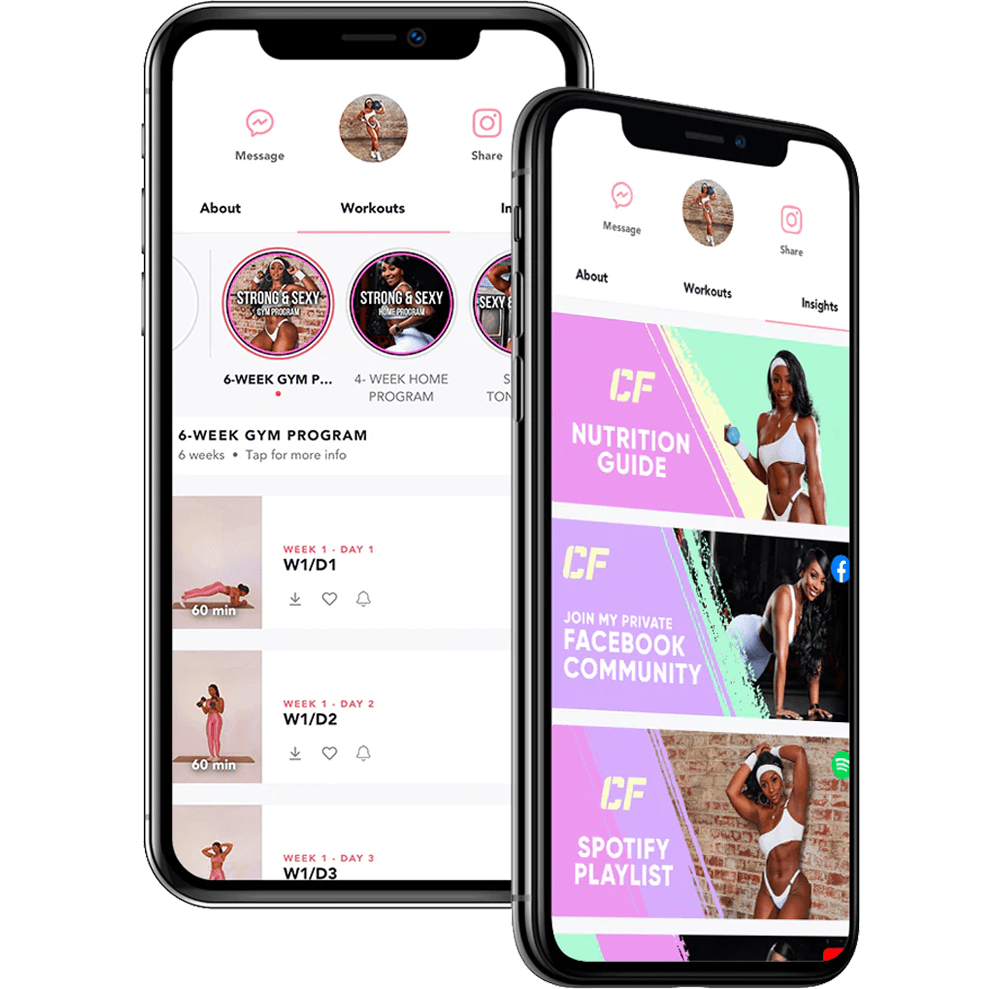 COCO FITNESS APP
WORKOUTS TO HELP YOU ACHIEVE THE BODY OF YOUR DREAMS!
Join me and get exclusive access to home and gym workouts that I've customized to help you achieve the body of your dreams. Bikini bodies are made all year long… THE TIME IS NOW!
DOWNLOAD THE APP TODAY!
EXCLUSIVE GUIDES, RECIPES & MORE!
I share my favorite recipes, go- to meals, grocery shopping list, workout playlist, motivational tips, and advice to help you stay on track.
START 7-DAY FREE TRIAL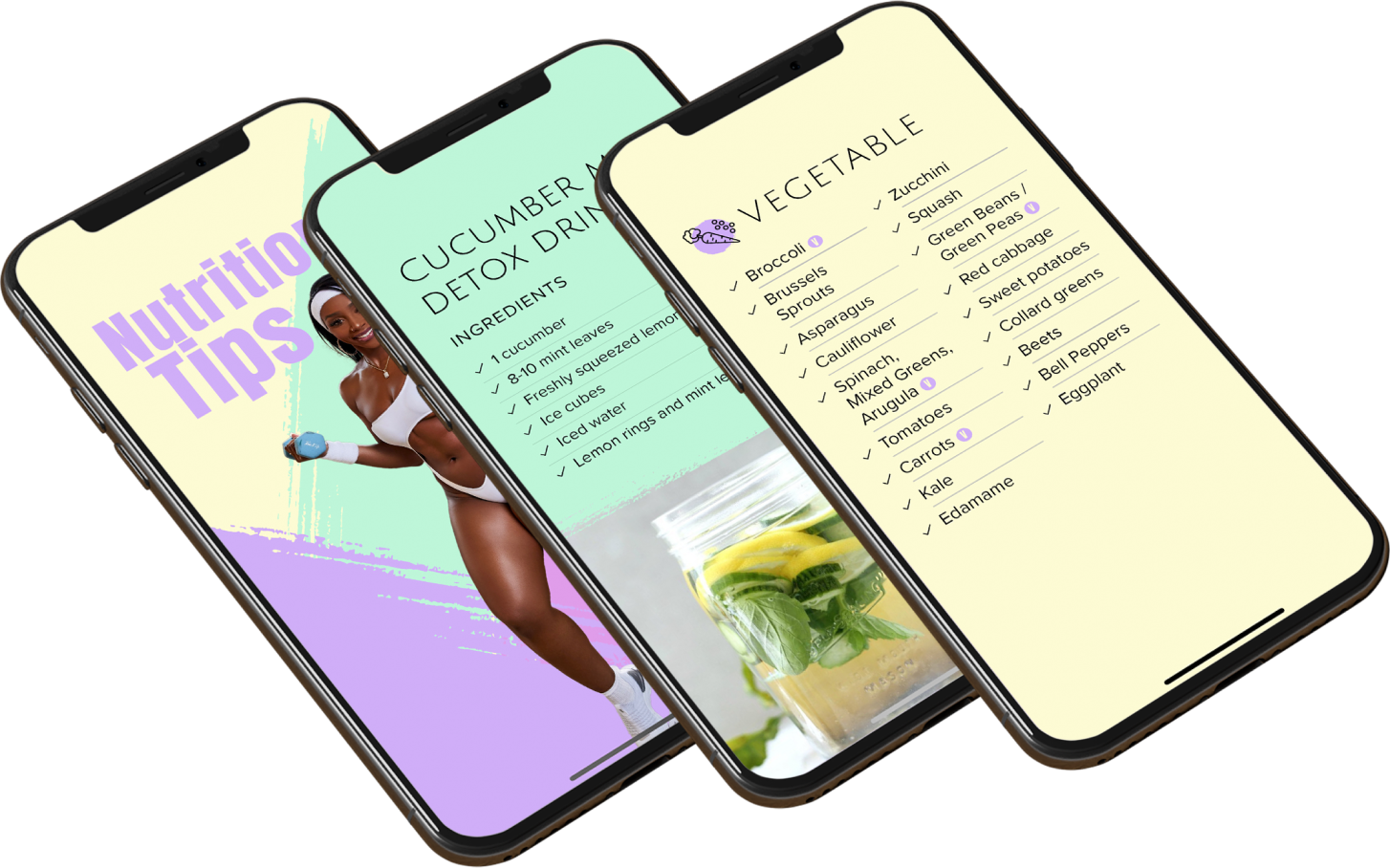 DAILY MOTIVATION
Receive messages and videos from me to keep you on track and help you stay motivated.
EASY-TO-FOLLOW VIDEOS
I make exercise easy by walking you through the moves and providing simple instructions.
COMMUNITY
Get access to my exclusive Facebook group to share your fitness journey and get tips from thousands of other people on my programs.
DELICIOUS RECIPES
I have a ton of snack and meal ideas to share with you to help nourish your body and boost your energy.
WORKOUT PROGRAMS
My workouts are made for all fitness levels with modified exercises from beginner to advanced.
TALK TO ME
Message me directly on the app to ask me any questions you may have.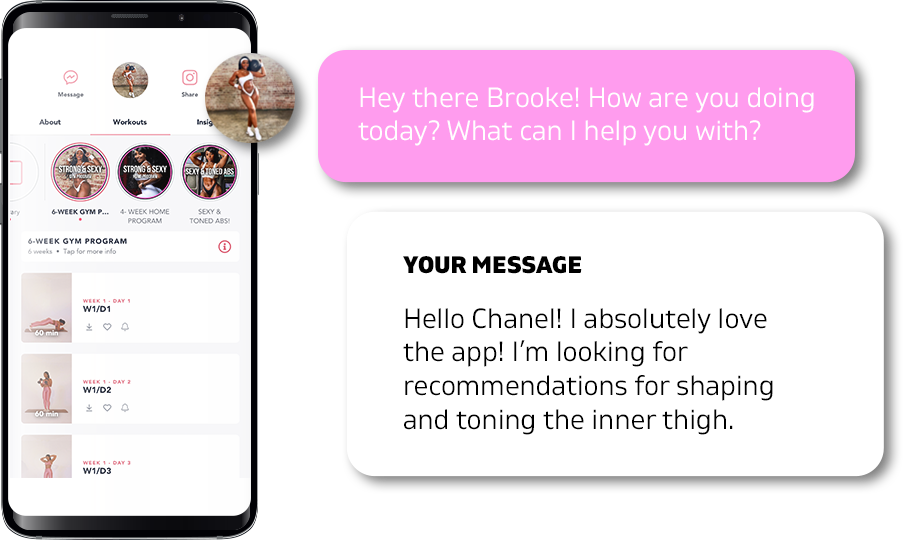 GET PRIVATE ACCESS & GUIDANCE
START TODAY FOR FREE
Ask me questions directly through the app. I'm here to help you reach your body goals!
START 7-DAY FREE TRIAL
ABOUT CHANEL DELISSER
FITNESS COACH & OCCUPATIONAL THERAPIST
MY MISSION IS TO HELP WOMEN BECOME THE MOST CONFIDENT VERSION OF THEMSELVES!

From the moment I decided to stop fighting against the things that I disliked about myself and instead channeled this energy as motivation. I evolved into a strong, fearless, and confident woman. Coaching and teaching other women how to become their own body goals bring me true happiness.

I want other women to understand that if I can do it… YOU CAN DO IT TOO!
LEARN MORE!
STREAM ANY TIME, ANYWHERE
Take me wherever you go! Whether you're at home or at the gym, my app will keep you in shape.
Plus it's packed with my exclusive nutrition tips and healthy recipes to keep you committed to your body goals.
START 7-DAY FREE TRIAL